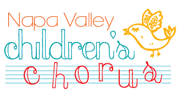 Napa Valley Children's Chorus
Founded in 1994, the Napa Valley Children's Chorus joined the Napa Valley Choral Society family in 2008, as part of the Society's ongoing goal of providing opportunities for lifelong participation in choral singing.
The mission of the children's chorus is to provide a fun, high quality, group singing experience for members that includes building camaraderie through musical play, healthy vocal training, performance opportunities and the development of performance skills for young singers. Through participation, members practice discipline and commitment, develop self-confidence, and become part of a musical community where every member is important.
Recent cutbacks in funding for public school music programs, particularly at the elementary level, are remedied, in part, through the efforts of organizations such as the Napa Valley Children's Chorus.
For more information: kmarkovich@blueoakschool.org or 707-261-4533