Our Director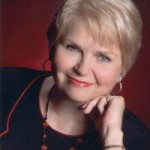 Jan Lanterman, Artistic Director and Conductor
Jan has conducted Sing Napa Valley since 1984. She is also Director of Music at the Napa Methodist Church.
Jan is a graduate of California State University, Chico, where she studied with Ralph Wadsworth and sang in the A Cappella Choir. She sang with the Louis Magor Singers in San Francisco and under the direction of Robert Shaw for performances of the B minor Mass by J. S. Bach and Te Deum by Hector Berlioz.
Locally Jan sang with Silverado Singers and Valley of the Moon Chamber Ensemble and was assistant director of the Napa Valley Symphony Chorus. Jan studied conducting postgraduate with Jane Marshall, Carlton Young, Louis Magor, and René Clausen, among others, and was privileged to be selected as a fellow for the prestigious conducting/composition workshop with Alice Parker at her home studio.